Delirium and considerations during the Covid-19 pandemic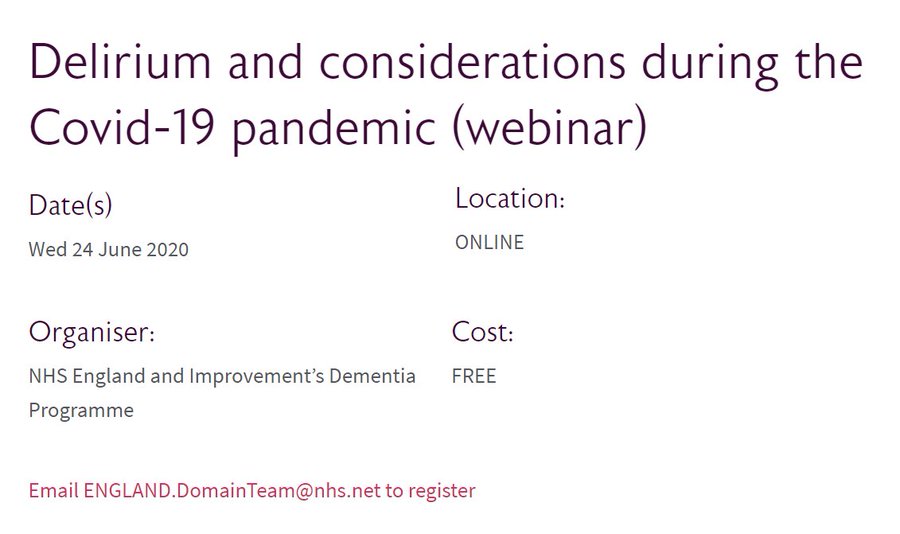 NHS England and Improvement's Dementia Programme is hosting a webinar on specific considerations for delirium during COVID-19, which will take place on 24 June, from 13.00-14.30.
Delirium is marker of acute illness and is increasingly recognised as being a condition linked to the presentation of COVID-19, particularly in older people. This presents new challenges in terms of recognition and management, especially in the community setting.
This webinar brings together experts in the field to discuss:
how delirium presents in the context of COVID-19;
how to care for someone with delirium and COVID-19; and
how to provide good care in the community, with additional focus on the care home setting.
Speakers:
Host: Professor Alistair Burns, National Clinical Director for Dementia, NHS England and Improvement
Chair: Dr Emma Vardy, Consultant Geriatrician and Honorary Senior lecturer, Clinical Dementia Lead Salford ICO, Associate CCIO for GDE pathway redesign Salford Royal NHS Foundation Trust
Dr Thomas Jackson: Consultant Geriatrician, Queen Elizabeth Hospitals Birmingham; Clinician Scientist in Geriatric Medicine, Institute of Inflammation and Ageing, University of Birmingham
Addressing: presentation of delirium and detection in the context of Covid-19
Dr Mani Krishnan: Consultant in Old Age/Liaison Psychiatry, Senior Clinical Director TEWV NHS Foundation Trust; Academic Secretary/ Chair Elect of the Faculty of Old Age Psychiatry, Royal College of Psychiatrists, Associate Dean HEE
Addressing: management of delirium and follow-up
Helen Pratt: Project Manager, Dementia United, Greater Manchester Health and Social Care Partnership
Addressing: delirium community pathways and care
Professor Adam Gordon, Care of Older People, University of Nottingham, Consultant Geriatrician, Derby Teaching Hospitals NHS
Addressing: delirium care in the community and care homes
To join this webinar, which will take place on 24 June, from 13.00-14.30, please email ENGLAND.DomainTeam@nhs.net . A recording of the webinar will be made available.