SELECT intermediate online meeting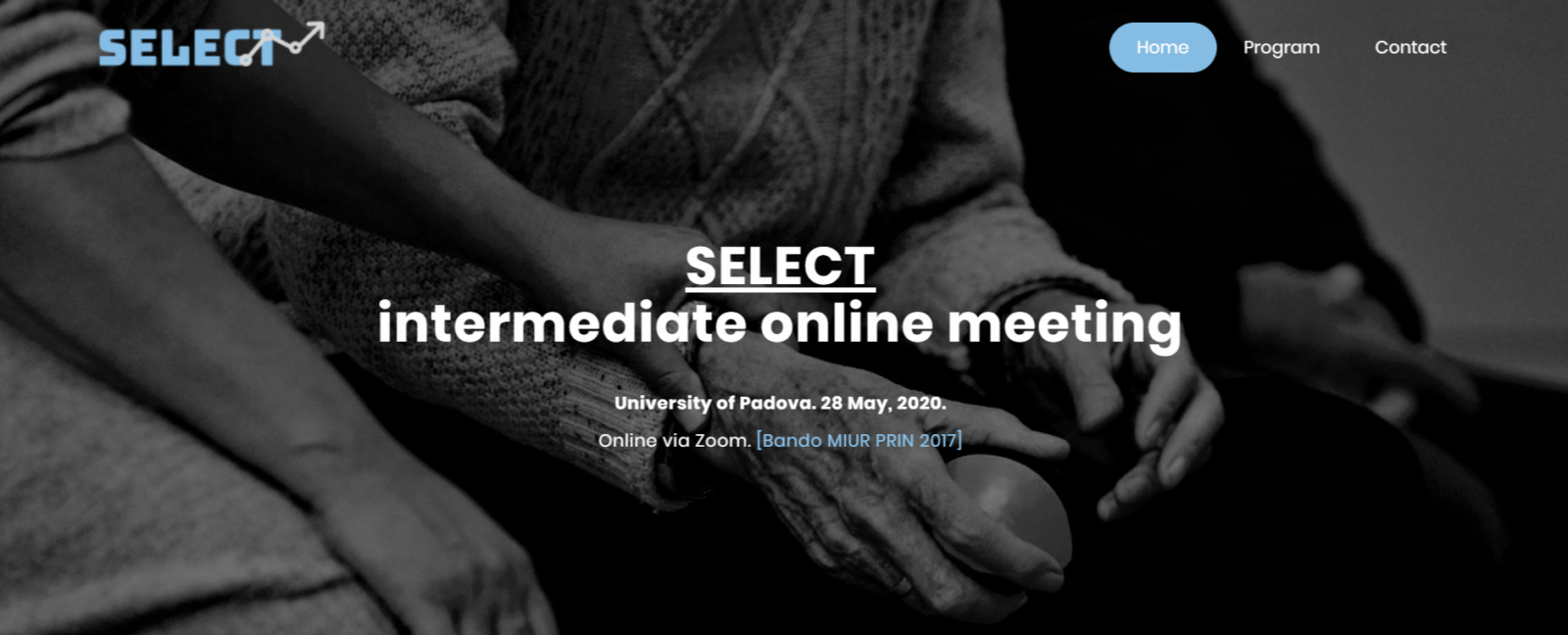 SELECT – Unfolding the SEcrets of LongEvity is a research project aiming to explore the factors and mechanisms of longevity evolution in the recent years and link them with morbidity trends to foster healthy longevity.
The project involves Demographers, Epidemiologists, Social and Data Scientists from Ca' Foscari University, University of Padova, Bocconi University and University of Piemonte Orientale
This intermediate meeting aims at presenting some initial scientific outputs of the project and provides an opportunity to discuss the recent COVID-19 emergency from an interdisciplinary perspective that embraces demography, social science, epidemiology and data analysis.
Program
[10:00-11:00] Padova
Marco Stefanucci. Analyzing cause-specific mortality trends using compositional functional data analysis.
Emanuele Aliverti. Bayesian modelling of mortality via dynamic mixture-function.
[11:00-12:00] Venezia
Francesca Zantomio. The economic consequences of CVD shocks in older age.
Andrea Pastore. Unhealty life prevalence estimation using the Passi dataset.
[12:00-13:00] Piemonte Orientale
Carmen Aina. The long-term effects of employment trajectories on health later in life.
Chiara Airoldi. Modelling the course of aging: how to consider cronicity.
Afternoon session: Panel discussion on COVID-19 crisis
Panel discussants:
Stefano Campostrini [Venezia]
Alcune riflessioni sulla diffusione dell'epidemia COVID-19 a partire dai dati sulla mortalità
Alessia Melegaro [Bocconi]
Un focus sulla Lombardia: analisi epidemiologica e modelli di previsione
Gianni Corsetti and Marco Battaglini [ISTAT]
L'eccesso di mortalità in Italia durante l'emergenza COVID-19: fonti, metodi e principali risultati
Stefano Mazzuco [Padova]
Uno sguardo demografico sulla crisi sanitaria in corso
Fabrizio Faggiano [Piemonte Orientale]
Un'analisi epidemiologica dell'epidemia in corso